In the contemporary business environment, organizations primarily slot into one of two markets: the expansive horizontal or the specialized vertical. While horizontal markets cater to a wide array of industries, vertical markets are geared towards specific niches, targeting specialized needs.
The dawn of the digital era has witnessed revolutionary shifts in the business sector, a key driver being the rise of cloud-based solutions, notably Software as a Service (SaaS).
Embracing the SaaS paradigm has brought about transformative shifts in business operations. Even though Salesforce is often credited as pioneering the SaaS movement, the past two decades have seen a meteoric surge in businesses opting for this model. The allure of SaaS rests in its easy accessibility, diminished need for regular upkeep, and a cost-effective entry point. This has led to the sprouting of various SaaS branches, from IaaS and PaaS to BaaS, DBaaS, and the all-encompassing XaaS.
Within this sprawling SaaS ecosystem, two terminologies stand out: Horizontal and Vertical SaaS. These terms depict how businesses align their strategies in accordance to their market outreach. A large chunk of SaaS enterprises harness a horizontal approach, optimizing specific processes or operational flows.
However, making waves in the recent past is the emergence of Vertical SaaS. Tailored with precision, these software solutions are engineered for distinct industries. By seamlessly integrating advanced software capabilities, Vertical SaaS transforms industry constraints into avenues for revenue growth and expansion.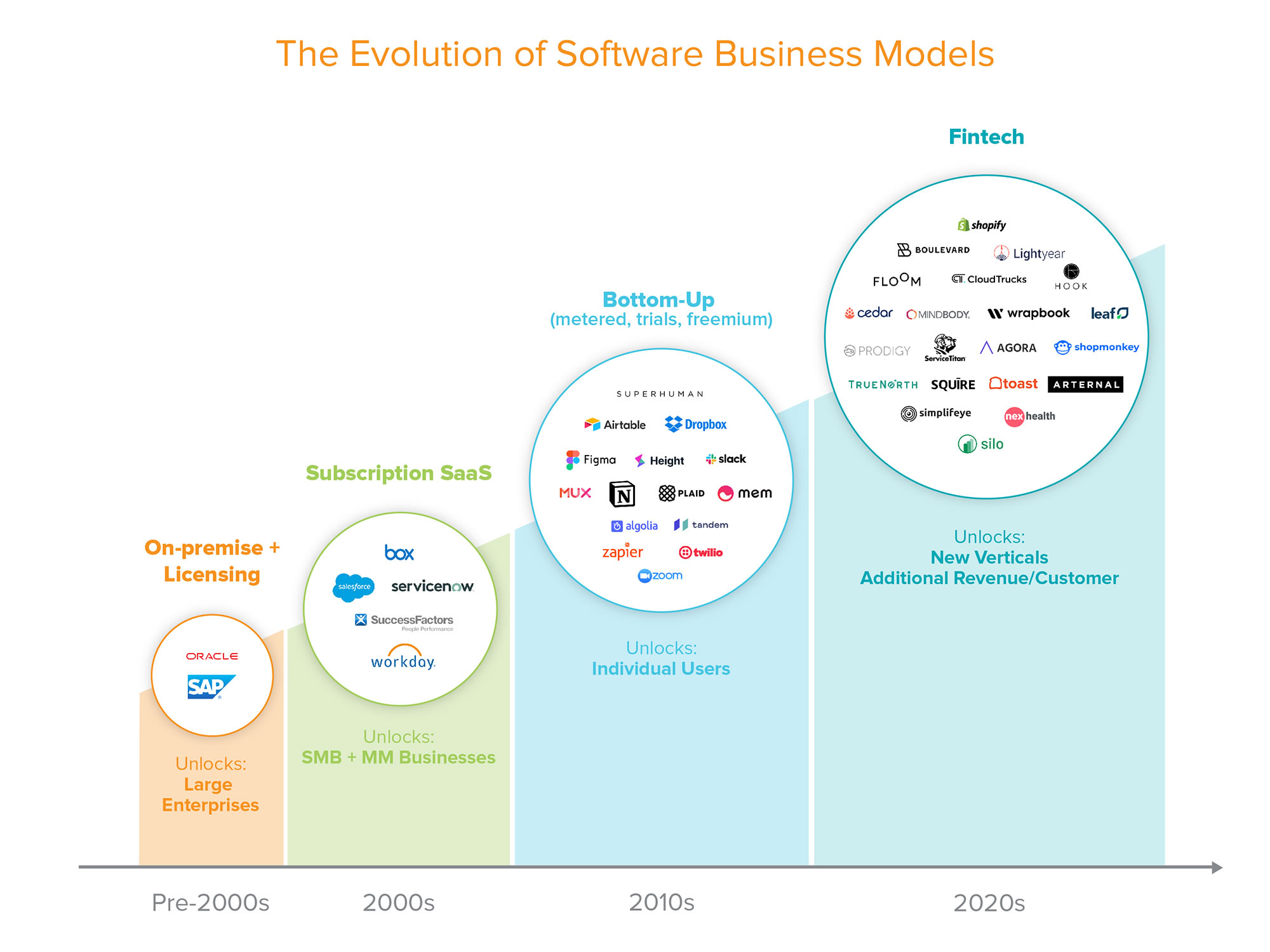 Main diferences between Vertical and Horizontal SaaS
| | | |
| --- | --- | --- |
| | Vertical SaaS | Horizontal SaaS |
| Industry | Designed specifically for a certain industry and exclusively accessible to businesses within that domain | Caters to every sector and field |
| Marketing Strategy | Reduced advertising costs owing to the specialized focus of the offerings | Aims at a broad customer audience, resulting in increased promotional costs and decreased conversion percentages |
| Updates and Adaptation | Regular roll-out of new functionalities and updates tailored to the industry | Implementation of updates is time consuming due to the solution's broad-based design |
The ascent of Vertical SaaS
Vertical SaaS offerings aren't new, but the accomplishments of firms such as Servicetitan, Veeva, and Procore have accentuated their importance. Instead of aiming to cater to a wide-ranging clientele, these solutions zero in on distinct business hurdles in a given sector. Their triumph hinges on pinpointing and catering to established markets with particular requirements. As conventional enterprises transition to digital platforms, the timeliness and pertinence of a product's proposition turn vital for success.
Here are some notable instances of Vertical SaaS solutions:
Digital Marketing: Affable.io supports companies in orchestrating influencer marketing initiatives and tracking competitors.
Hospitality Industry: Toast offers eateries a comprehensive platform handling POS administration, digital orders, promotional activities, and staff coordination.
eCommerce: Shopify, among the pioneers and most triumphant in the vertical SaaS arena, streamlines the process of setting up an online storefront.
Here are a few additional solutions
Advantages of Vertical SaaS
Vertical SaaS substantially trims operational expenses, showcasing up to a 22% cutback in sales and marketing outlays.
With a keen eye on specific marketing strategies, vertical SaaS can diminish customer acquisition expenses (CAC), displaying reductions by as much as eight times when compared to their horizontal SaaS counterparts.
Financial demands for vertical software firms are less intensive; they necessitate 45% lesser funding to pave the way for an initial public offering (IPO) relative to horizontal competitors.
Excelling in serving specialized markets, vertical SaaS demonstrates a strong conversion metric and heightened customer loyalty potential.
Vertical SaaS solutions are meticulously crafted by industry experts to align with sector-specific regulations and benchmarks.
What's coming for Vertical SaaS
Giants in the field like Microsoft, Google, and Salesforce are keenly observing the Vertical SaaS trajectory. These corporations are crafting sector-specific cloud solutions to rival the upcoming wave of innovators. The inclination towards industry-tailored solutions indicates that the SaaS realm's future lies in presenting pinpointed and custom offerings suited to the unique needs of diverse sectors.
To wrap up, Vertical SaaS's rise has paved the way for unprecedented sector-based growth and creativity. With these industry-centric solutions, companies have the tools to refine operations, slash costs, and elevate user experiences.
Given the escalating demand for niche-tailored software offerings, expert service enterprises like Globant are poised to steer the course. With a profound grasp over an array of sectors and the forefront of technological advancements, Globant stands primed to deliver bespoke Vertical SaaS offerings to its clientele. Embracing this trend allows enterprises to stay at the cutting edge, seize latent potential, and thrive in the dynamic world of industry-centric software offerings.
Questions? Comments? Feel free to contact us. We know how to help you to succeed on your next project.